10% OFF CHRISTMAS LIGHTS & OUTDOOR WITH CODE WINTER10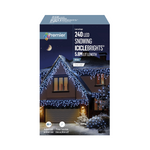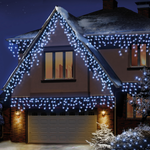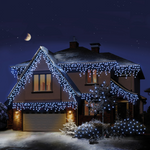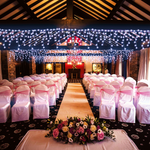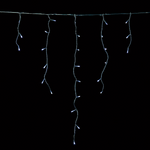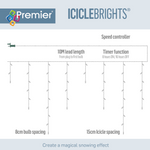 Premier Decorations
240 Snowing Icicle Christmas Lights With Timer - 5.8m - White
Manufactured to the highest standards, the range is compliant with the latest industry regulations and includes high performance, economical and sustainable technologies.
Key Features
LV162182W

5.8m Lit Length
8 Hour Turn On Timer
Clear Cable
Multi Function/Action
Suitable For Indoors/Outdoors
Regular Price

£28.99

Regular Price

Sale Price

£28.99

Unit Price

per
Turn your outdoor space into a winter wonderland with our 240 Outdoor Snowing Icicle Christmas Lights. These stunning icicle lights in crisp, pure white will bring the magic of a snowy evening to your holiday decorations, creating a mesmerizing and enchanting display that will leave your neighbors in awe.

240 Snowing Icicle LEDs: Immerse your outdoor area in the charm of gently falling snowflakes with these 240 bright white icicle lights. The snowing effect creates a captivating ambiance, reminiscent of a frosty winter's night.

5.8m Length: With an impressive 5.8-metre lit length, these icicle lights are perfect for draping along the eaves of your house or adorning outdoor trees and structures. They provide ample coverage to transform your outdoor space into a breathtaking winter landscape.

Timer Function: Simplify your holiday decorating and save energy with the built-in timer function. Set your preferred lighting schedule from 8 different modes, and the timer will automatically switch the lights on (8 hours) and off at your chosen times.

Weather-resistant Design: Crafted to withstand the elements, these outdoor icicle lights are designed for durability. Whether it's snow, rain, or cold, they'll continue to perform reliably, bringing the beauty of winter to your home.

Easy Installation: The convenient design of these icicle lights ensures hassle-free installation. Spend less time untangling cords and more time reveling in the beauty of your holiday display.

Safe and Energy-efficient: These outdoor lights are energy-efficient, reducing your electricity costs while creating a safe and cozy atmosphere for your outdoor holiday gatherings.

Versatile Decor: Beyond rooflines and trees, these icicle lights are perfect for enhancing fences, gazebos, and outdoor structures. Create a winter wonderland that's uniquely yours.

Elevate your outdoor holiday decor with the 240 Outdoor Snowing Icicle Christmas Lights with Timer in brilliant white. With their snowing effect, user-friendly features, and robust construction, these lights are set to become a focal point of your holiday traditions, enveloping your outdoor space in the enchantment of a snowy winter's night.

Make this Christmas unforgettable with Snowing Icicle Lights – where the magic of snowfall meets the convenience of modern technology, and your outdoor space becomes a canvas for holiday wonder.
Our 14 day, no-quibble returns or replacements policy
Because we want you to be totally satisfied with your purchase.
If you're unhappy in any way with your purchase, you can return it for a refund, replacement or credit. You may be requested to return the item in its original, undamaged packaging before we process your request.
Please keep in mind the following:
Items returned within 14 days but not in their original and undamaged packaging will also incur a -15% charge per package.
If you return an item that doesn't adhere to our returns procedure or doesn't include a returns form, you may be liable for a £10 administration fee
Individual items from a

 

bundle

 

can't be returned, refunded or exchanged. If you want a refund/credit/exchange for a bundle, all items must be returned to us.
Before you return your item, please make sure that:
You include a cover note containing your order number, the email address you placed the order with and the products you are returning.
The goods and packaging are undamaged
IMPORTANT: We need to be able to identify an item with your order. We can only do this if you follow our returns process. Please do not send us items back that do not follow this process as they cannot be identified properly and will not be replaced or refunded.
Where can i find my order number?
Your order number can be found on the confirmation email we sent you after you completed your purchase.
What do I need to know before I return an item?
When returning an item, you will need to include the following in a cover note (and email us your request too):
The email you registered your purchase with
Order Number
What product(s) you are returning
The reason for the return
What action you would like us to take
What delivery method do I need to use when returning an item?
You must send the goods back to us via a tracked delivery service.
Can I return just one item from a multiple purchase?
Yes. Just provide us with the information as laid out above and we'll take the action you require.
Returning faulty goods
If your item is faulty, you need to follow the returns policy, where you'll be able to state that it's faulty. The product will then arrive at our warehouse for testing.
Returning heavy items, panels and tubes
Items over 2.5kg, panel lights and tube lights will require collection. Please be aware that you will incur a £10-charge for failed collections.
Returning an item within warranty
If you have a 2, 3 or a 5 year warranty and want to return a faulty item, you just need to follow our standard returns process. When we receive your item, we will then check that it's within warranty and for any faults before arranging a replacement. Please note that if your purchase was made before July 2019, your warranty may not be valid.
Battery Recycling
Please note you can recycle your batteries at our head office site, Unit 4 Beacon Road, Trafford Park, Manchester, M17 1AF where we have a battery recycling box in our reception area. Or click here to find a local recycling centre.